A healthy habit that supports your immune system is regular consumption of bone broth.
Almost every culture has made use of bones in cooking to get the nutritional benefits as well as to make the most out of precious resources.
Here are some of the health benefits of bone broth for immunity:
Rich in easy to absorb minerals
Contains healing factors for the lining of the gut (helps to heal leaky gut)
Supports healthy hair, skin, and nails
Supports healthy joints
Supports skin elasticity
Naturally boosts the immune system
Contains minerals, amino acids, collagen, gelatin, good fat
Supports bone health
Helps with detoxification
During these challenging times of living during a pandemic, it is more important than ever to access as many of the health and immune system benefits available to you as possible. Bone broth is one of the cheapest of those precious resources available to you and has the added benefit of being food as well as medicine.
Now, you likely have more time than ever to cook so break out your pressure cooker, crockpot or stockpot and try it out. Sure, you can buy bone broth in the store, but it's going to be missing the fat and gel that make it so good for you. Not to mention that it is quite expensive to buy when you can make it at home easily with scraps! Making your own bone broth is good for your immune system and your budget.
Dr. Amanda's Simple Instant Pot Bone Broth
Ingredients:
Organic bones
Purified water
Apple cider vinegar
Vegetables (optional)
Spices (optional)
Instructions:
Add bones to instant pot up to almost 3/4 the way with some gaps between bones. (I used organic grass-fed beef bones)
Add 2 tablespoons of apple cider vinegar.
Add water up to the max fill line.
Let sit for 30 minutes to begin bone demineralization.
Add spices and vegetable scraps if you want. (I used 5 crushed cloves of garlic, some celery scraps, and pink Himalayan salt)
Close the lid to the pot and turned the valve to seal. I used the soup/broth and low-pressure settings for 120 minutes.
After it is done cooking, strain the broth into a pot then put it in mason jars. After it cools, put them in the refrigerator. After 12 hours the fat and gelatin will rise to the top.
You can store the bone broth in the refrigerator for 1 week. To store longer, freeze.
You can use a crock pot or stock pot, but will need to cook for at least 12 hours using those methods.
You can drink this broth plain or with butter and salt. You can also use this as the base for soups, gravies and for braising.
Bone broth can be used for fasts. I have seen dramatic improvements using this type of fast for individuals with digestive issues as in addition to giving the digestive system a rest, it contains those gut healing factors. Bone broth is also a great complement to a keto or carnivore diet. Bone broth is the staple for the GAPS (gut and psychology syndrome) diet and can support a healthy mood and sleep.
I recommend consuming at least 1 cup per day for gut and immune benefits. With the current viral situation we are facing, I advise daily consumption over at least the next 3 months.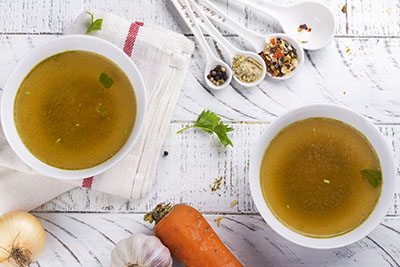 For more help on how to integrate bone broth into your nutrition plan and how to access mother nature's medicine cabinet, contact the office to set up a phone visit.
Your Holistic Pharmacist,
Dr. Amanda Childress,
PharmD