Healthcare The Way Mother Nature Intended!
 CHAPTER 1: Avoid Chronic Disease = Your body talks to us using the language of symptoms – instead of shutting it up with drugs, we listen and heal your body with Hardcore Holistic Nutrition.
   CHAPTER 2: Life Changing Results

=

 
We find out what organs and systems need help and we put a plan together to get you back to optimal health.
   CHAPTER 3: Hardcore Holistic Nutrition =
When it comes to your Hardcore Holistic Nutrition program there are 2 causes of disease. The first is not enough of the good stuff (nutritional deficiencies) and the second is too much of the bad stuff (toxicities and pathogens).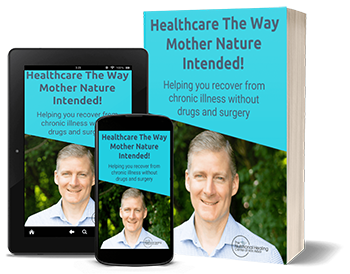 Bonus: You get a walkthrough of the practice and you meet the team
Discover How We Heal Our Patients And Get Thousands Of 5 STAR REVIEWS Without Using Drugs or Surgery
Once You Understand These 7 Steps
Nutrition and Supplements will become the foundation of your natural health care
ANXIETY/ DEPRESSION/ THYROID
What was it like before you came in to see us? I had no energy! I felt terrible all the time. I wasn't sleeping and had extreme anxiety and depression. I was seriously considering going on anti-depressants and anti-anxiety drugs. My digestion was horrible and I had been on Armor Thyroid for years!
How is it now? I feel like a different person! I'm sleeping great. My digestion is so much better, I have energy and my anxiety is so much better. I was actually able to go off of all of my thyroid medications- my family doctor even told me to go off of it. I never thought this would happen!
How have these improvements changed your life? I'm no longer just surviving, I'm actually enjoying life! I'm a better wife and mother.
— Leila Goldsworthy
NUMBER OF HEALTH CONCERNS
What was it like before came in to see us? I was dealing with a number of health concerns with no clear understanding as to their causes or possible cures.
How is it now? I have a much-cleared understanding as to the conditions which lead to the imbalances in my life and now have the tools needed to recreate balance.
How have these improvements changed your life? Much more hope-filled and positive, C5 symptoms disappear, the results are strong of empowerment.
— Frank Levey
Customer Reviews = 5 STAR's –
based on 
3352
 reviews
---
5 Stars = Linda P. on 5/12/2021
Everyone was friendly and well informed/educated. I felt comfortable and aided at the same time. Thanks, everyone!
I'm very happy with the results we're getting here
5 Stars =
Sarah B.
 on 
5/11/2021
5 Stars

=
Tamara R.
 on 
5/11/2021 –
Kerry is always helpful and focused on what is best for me to get me healthy and pain free. I'm an individual, not a peg that needs to fit in a hole.